I'm SO bummed I haven't had more time to post recently.  Between the house projects, shooting/editing, and just our families normal stuff. We've been swamped!  Lots of good, a little bad and fun in between.  Here are two more from one of my shoots this week.
I also got to see my friend Tera and her three adorable babies!!  Lily, Ella & Eva (said "Ava") are seriously such cute kids.  Ever has been obsessed with talking about "the twins" ever since they came and Zara keeps saying, "I wish I could just have kids now!"  Haha.  I'm glad they like younger kids, I'm realizing more and more, that isn't a normal thing.
And then there are the naps… For some reason they both feel asleep just laying around.  That's not usual, but it was so cute!
We've also been trying to get out at night because our weather has been gorgeous, cool, breezy and just perfect for running around outside and feeding some ducks!
I don't have any good daytime pictures of my new and improved dining room yet, but here's one from my instagram:
Some people came over last night and a friend said, "I like all the new furniture."  Which made me really happy that he couldn't tell how unprofessionally I am at painting/staining, and he thought I bought NEW furniture rather then just painting and changing somethings!  Success!  (Nick, if you are reading this, you made my day!!)
I have a cute little space set up in my living room now too with my craigslist Wingback Chairs.  All they need is this between them: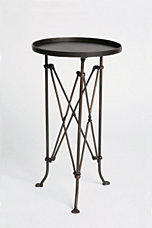 …and it will be here next thursday. YEAH!  You probably can see the details in this picture, but there are little vintage "feet" on the bottom!  I already have a lamp for it, so now we'll have a nice little reading area…or maybe it will be my blogging area and I'll be stealing my husband's laptop and blogging every single day just so I can sit there.  You just never know…